The recreation center of Villiers‑sur‑Loir
Nautical activity lovers, this lake is ideal for recharging your batteries!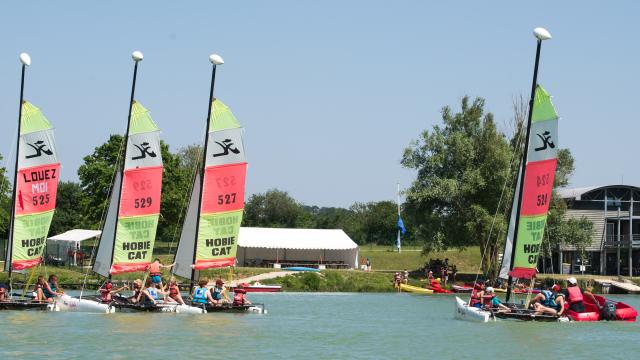 Swimming and relaxation on the supervised beach.
"It's a July afternoon, the heat is there and we just have one idea to cool off. A few steps from Vendôme and Montoire we decided to land at Villiers lake. The cries of children can be heard splashing the water. Some others prefer to relax in the shade of the trees. The water quality is classified Blue Flag and no worries : swimming is supervised in July and August by life-guards. Just Sitting on our towel, we can simply laze with a good book or simply go for a swim.

Picnic area and games for children
"It's 4:00 already : children decide to have a snack on the spot ; we could also have used one of the picnic tables available around the water body. The time is fast, before leaving, a little tour to the wooden games…To relax, recharge your batteries, go jogging, have a picnic with your family, go for a dip, the Villiers-sur-Loir leisure center is the perfect place for locals ».