During WWIl, Vendôme was struck in many ways.
As eyewitnesses to that time disappear, the urban city plan is changing, the "39/45 memory road" marks guide you throughout the town in memory of those who fought and gave their life in the name of liberty.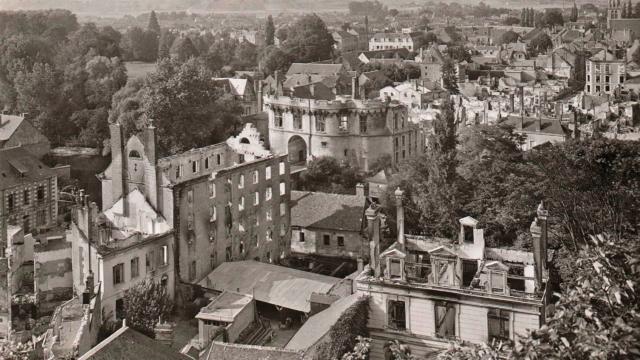 A free booklet at the tourist office will guide you to the emblematic places in order to retrace the events of this dark period of history (download available).
"39/45 Vendôme" markers in the ground will guide you through the streets, squares and passages.
Several stops along your way: City Hall which was the Ronsard High School during the war, the printing-office passage (headquarters of the University Press of France, PUF), Saint-Martin square where the statue of Maréchal de  Rochambeau was taken down by the Nazi occupiers, the corner of Saint-Martin and Republique squares, French Forces of the Interior (FFI) headquarters, the corner of Grande Rue and Renarderie streets, the Marché aux Légumes square and the Saint-Georges gateway, bombed on June 15th, 1940, Francis Bretheau school, the Labour exchange, the library garden where the statue of Ronsard was taken down, the hospital where the staff played a crucial role, the Saint-Michel bridge, "crossroads of the Resistance", Commandant Verrier house, Yvonne Chollet school, the Vendôme hotel (feldgendarmerie or German police station), 42 Maréchal Leclerc Mall, the post office, Belot Garden (war memorial), the Rochambeau quarter, the Bernard Hamet column, René Darreau street, Jean Emond High School, Jean Zay school, and the military plot of the Tuilerie cemetery.