Fortresses along the Loir river
Fortresses along the Loir river
Besides the Loir-et-Cher chateaux, there are unmissable fortresses, remnants of our history.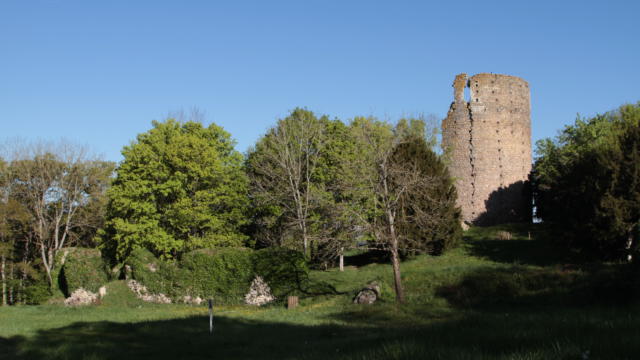 The feudal castle of Fréteval
The feudal castle of Fréteval which is located on a 4.5-hectare site has a keep belonging to the first generation of round-shaped and stone (flint) keeps.
Here, the concept of massive classical fortresses has a more refined decor, probably, according to historians, due to a feminine influence, the lady of the snake bas-relief, the gallery. The castle, located precisely between two territories, was the place of the tumultuous relationship between the Plantagenêts and the Capetians: meeting with Thomas Becket – Henri Il, king of England against Philippe-Augustus, king of France – Richard the Lionheart.
An anecdote: on July 5, 1194, Philippe-Augustus was defeated by Richard the Lionheart near Fréteval and lost his archives and campaign seals. After this defeat, the king of France decided to ask his chancellor to keep the "treasure of the Chartres" (archives and seals of the kingdom) in security in Paris.
Parking available on Oucques road. Free visits year round. Panels on display. Guided tours on Saturdays, Sundays and national holidays at 3:00pm and 4:30pm in July, August and September, meeting on site. Group reservation possible. No charge.

Chateau of Vendôme
The remains of the chateau dating back from the 11th to the 17th centuries and the Saint-Georges collegiate display the power of the Counts, then the Dukes of Bourbon-Vendôme, one of whom acceded to the throne of France: the future king Henri IV.
In the heart of the chateau, a park was designed in the 19th century with a cedar planted in 1807 and a collection of hydrangeas created by the Mouillère family, horticulturists in Vendôme. See the panorama of the city.
Free access to the park every day where historical parties, shows and concerts are regularly organized.
Guided tours will tell you about the history and secrets of the chateau. Information available at the tourist office for foreign languages visits.

The chateau of Lavardin
The fortress was built on a 45-meter high rocky promontory overlooking the Loir river and one of the "most beautiful villages of France"
Discover the beautiful ruins of this fortress dismantled during the reign of Henri IV.
Visit of the under-ground rooms.
Open during tourist season and all year round: 06 81 86 12 80.

The chateau of Mondoubleau
A detour in the Perche region…
The chateau of Mondoubleau was built circa 1010 by the knight Hugues Doubleau and was abandoned in the 16th century. The only inhabitable place is the Governor House of Courcillon.
Visit of the fortress on your own or with audio-guides.
Tour guide for a minimum of four people and reservation required.